Welcome to the new Workspaces experience: A powerful new feature set to help you efficiently manage multiple applications in Unqork.
As projects expand their scope, they can become more difficult to organize, which can make collaboration more challenging. Unqork's new Workspaces feature set empowers teams to effectively—and flexibly—scale while maintaining order via:
An app-centered experience: Apps are packaged in an intuitive and clean interface

Organization at any scale: Build and manage multiple projects within the same environment in ways that make sense to your team on a project-by-project basis

A launchpad for new functionality: Upcoming features and enhancements will be built on Workspaces
Demo: Watch the above demonstration of Workspaces in action.
Let's take a look at the improvements Creators should expect:
Flexible Organization
With this update, we've provided the ability to scale your environment while keeping it tidy and organized! We made it easier for teams to segment work for multiple projects in the same virtual space. Creators are empowered to structure apps in a way that makes sense to their teams on a project-by-project basis.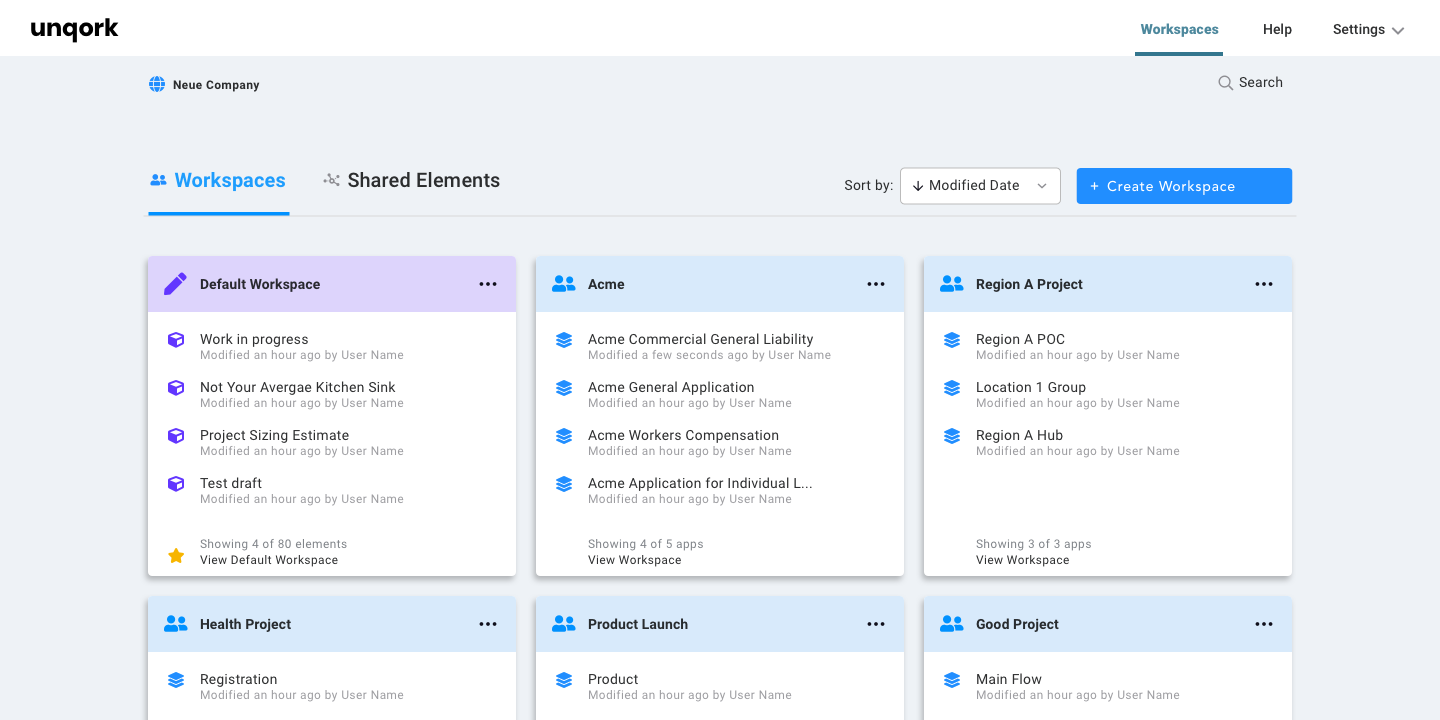 Click on all images to expand in a new window.
Neatly Packaged Apps
Apps are now packaged in an intuitive and clean interface. Actions and app-administration functions are can be easily accessed via the app tile or through the utilities section inside the app.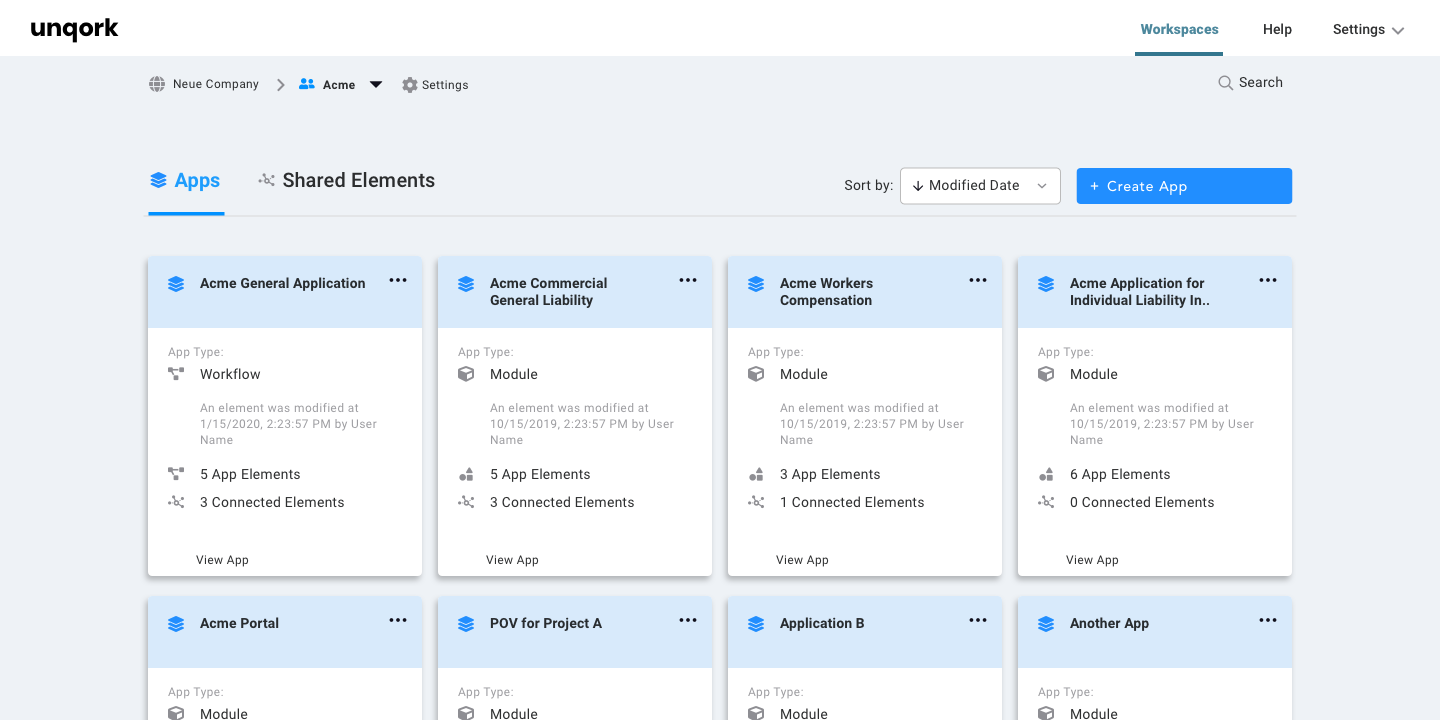 Easy Navigation Across Levels
Move conveniently across the management levels of your project using the breadcrumb navigation.

Reusable Configurations with Shared Elements
Shared Elements is a feature in Workspaces that allows modules and reference data to be shared and connected to more than 1 app. Multiple apps can connect to the same shared element—even across different workspaces. Build and maintain elements in one central location and use them whenever and wherever you want!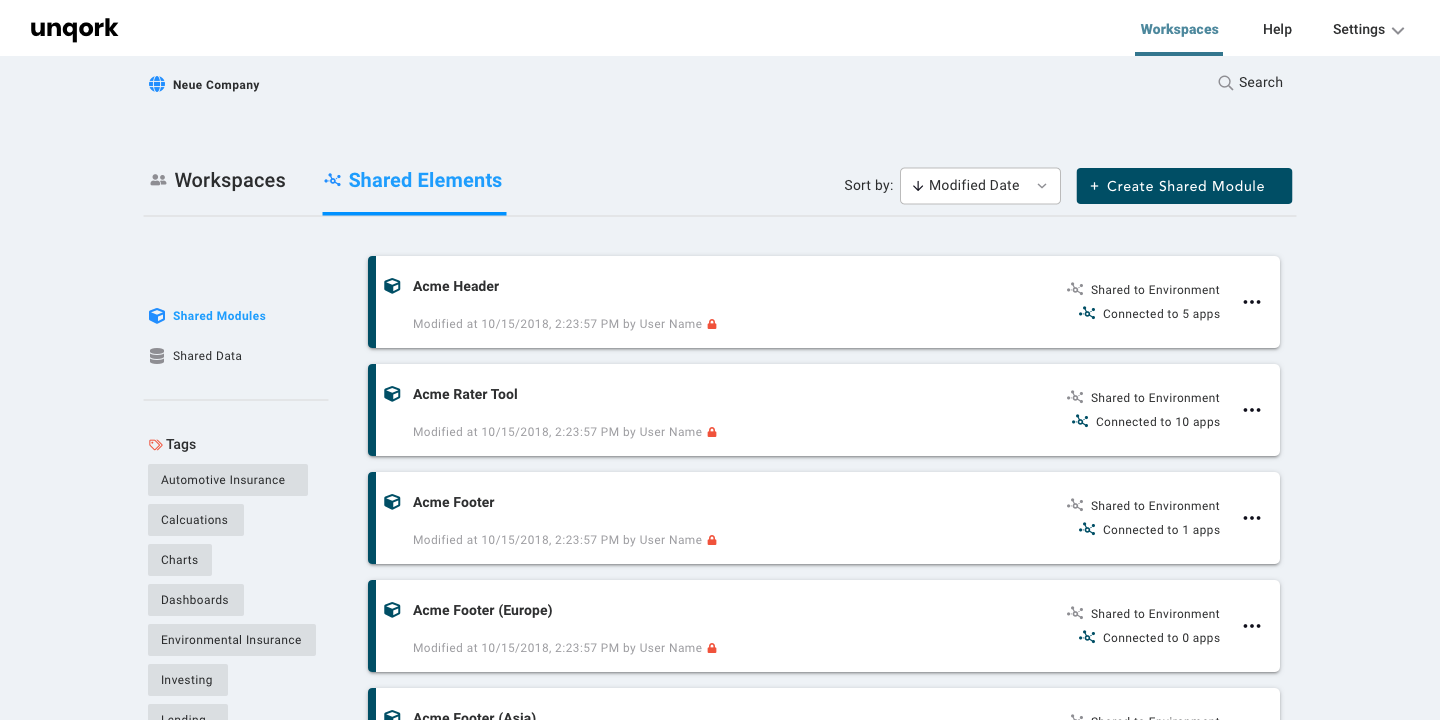 Search and Advanced Search Across Levels
We've consolidated our local filters into a Workspaces Global Search. Quickly find what you're looking for from the new search feature. For more refinement, click on Advanced Search for additional filtering and management options.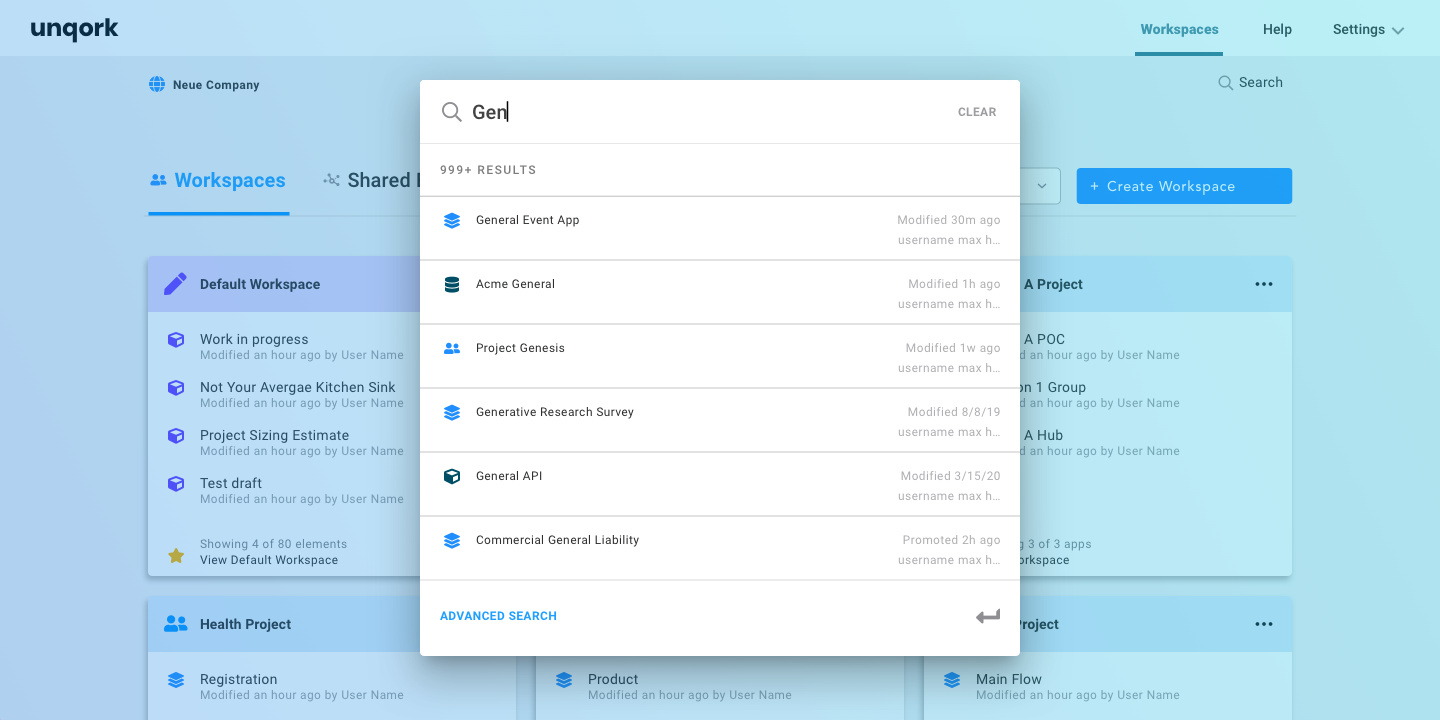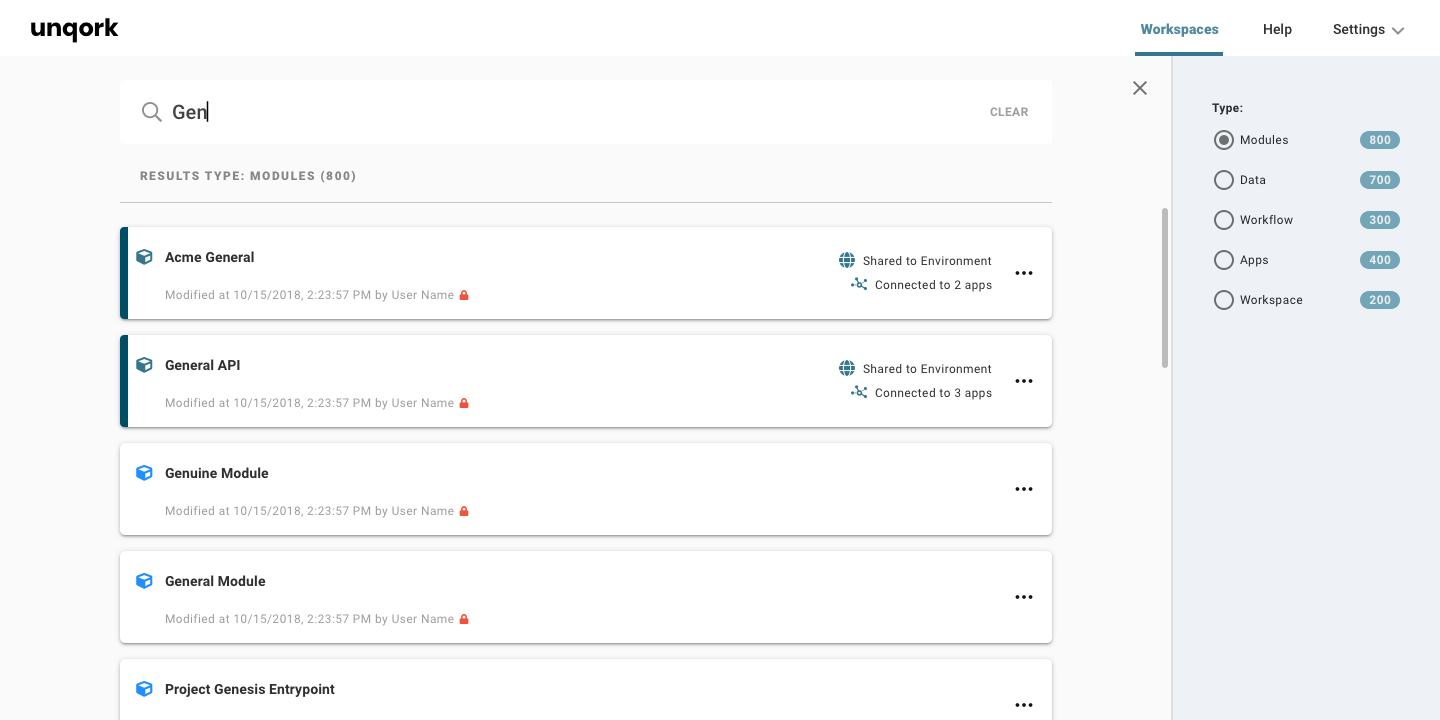 App Promotion Status and Details
App Promotions enhancements in Workspaces allow teams to see the status of their app promotions and view the details of that promotion.

Make the Switch, When You're Ready
Change is hard… but it's worth it! We're including an opt-in setting to Workspaces and providing access to the old App Builder view to ease the move. This allows your team time to plan out how you want to organize your projects in Workspaces. BUT don't wait too long to make the switch: The legacy App Builder view will eventually be sunsetted (with ample notification ahead of time).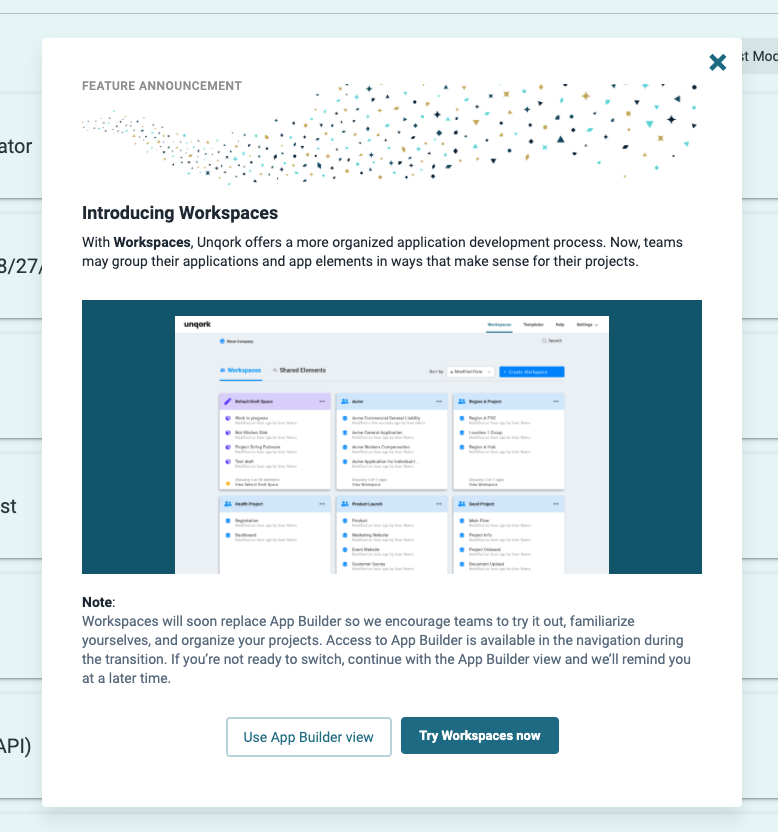 Frequently Asked Questions:
How do I opt-in to the new experience?
Creators will be prompted to try our Workspaces when they login to their environment. When you try it out, your homepage will automatically update to Workspaces. To ease the transition, we've also included access to the old App builder view in the navigation.
How will this impact my work?
All your App Builder work remains in your environment. The Workspaces feature set simply introduces additional management and administration interfaces for your apps. This update does not change the Module and Workflow Editor tools. We recommend trying out the new experience and segment your work in a way that makes sense to your team and your projects.
Does this change anything in Express?
No changes are being made to Express with this update.
Is there additional info on Workspaces available for my team?
Yes, additional info on Workspaces can be found in the Unqork help center and Stack community
How may I provide feedback or report issues?
Help us improve the feature set! Contact your Unqork representatives with any questions or comments.
---
Want to learn more about how no-code can be used at your organization? Schedule a personalized demonstration with one of our in-house experts. Also, sign-up for the Unqork newsletter to keep up-to-date on the latest in the world of no-code.
Take a self-guided tour of Unqork's Codeless-as-a-Service (CaaS) platform