Unqork 2021.11 introduces dynamic user flows and key integrations for healthcare applications, among other exciting updates.
The Screen/Task node, Certificate Management Administration page, and Unqork Marketplace received some major tune-ups for Unqork 2021.11. I am excited to be debuting them, so let's get right to it!.
See this release in action.
Creator productivity: create dynamic user flows
Imagine you want to show a different screen in your workflow based on which state your end-user selects as their residence. In the past, Creators needed to add dozens of Screen/Task nodes, gateways, and logic links to their workflow to make this possible. Now, you can make it happen with a single Screen/Task node, thanks to the new Screen Type setting. Simply select whether to show a static or dynamically-defined module when the workflow proceeds to the Screen/Task node.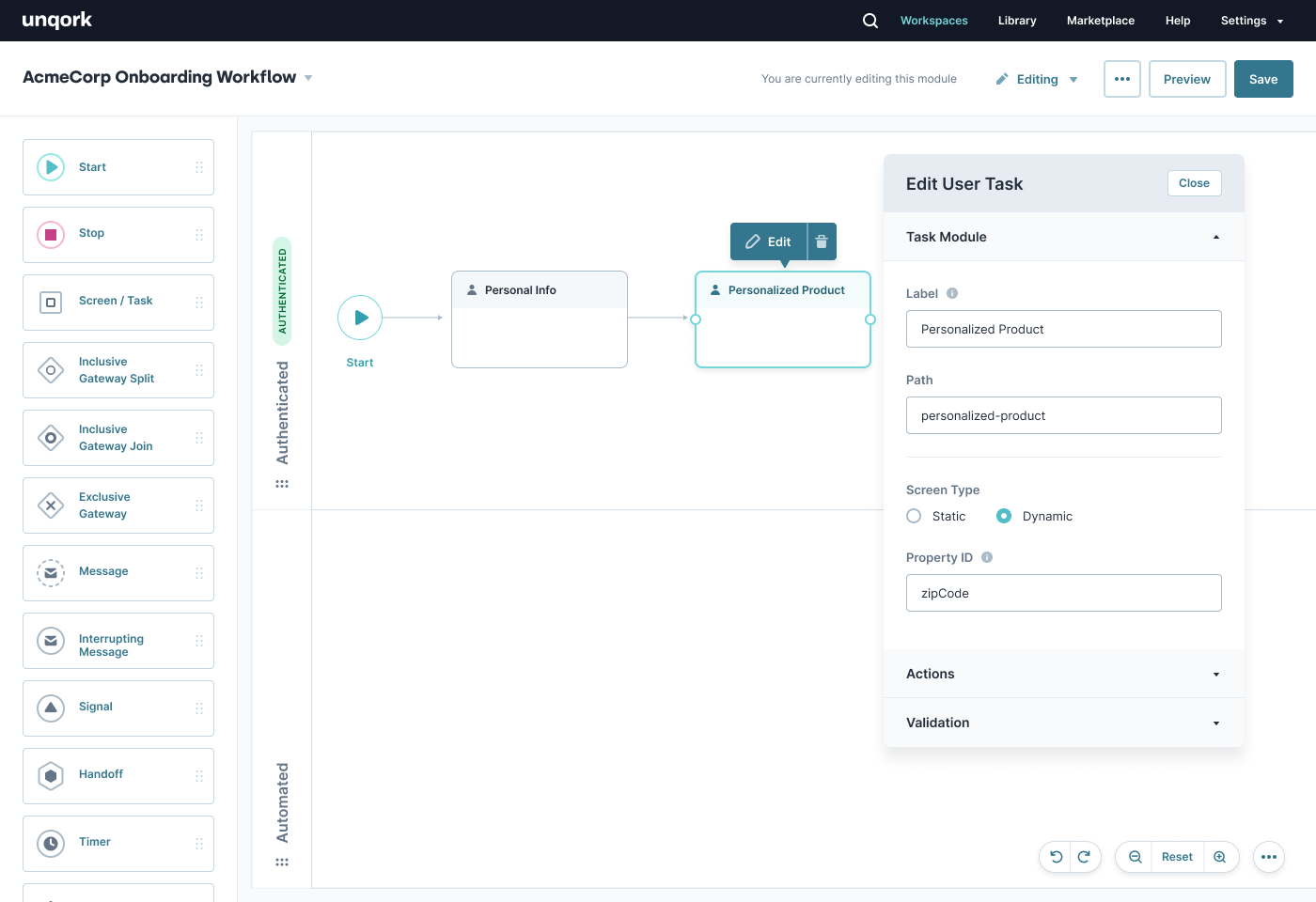 By choosing "dynamic", you can display to end-users one of several modules based on the data they submit.
For example, you can configure a Dropdown component with a list of all 50 states, and have a different module ID store in the submission for each possible option. If the end-user selects that they live in state X, module ID Y is stored. Then, the Screen/Task node references that stored module ID value to know which module to display.
Self-serviceability: easily add, view, and manage mTLS certificates
Now, you can easily manage all mTLS certificates in one centralized location. Use the certificates dashboard to get an at-a-glance view of your certificates, including their status, expiration date, and how many services are linked to the certificate. It's also easier than ever to quickly link multiple services to a single certificate.
Learn more about our Certificate Management update here.
Platform extensibility: healthcare providers can enjoy powerful new integrations
The latest batch of Marketplace listings help end-users through several stages of the healthcare journey, from assessing initial symptoms to traveling to their appointment.
To learn more about how Unqork's no-code platform works, schedule a personalized demonstration with one of our in-house experts. Also, sign up for the Unqork newsletter to discover more ways no-code is changing the enterprise application industry.
The future of insurance is codeless