Take a look at what a typical remote workday is like for Karen Laiacona, Quality Assurance Manager at Unqork.
For the latest installment of our Unqork @ Work series, we're spending the day with Karen Laiacona. As a Quality Assurance Manager, it's Karen's job to ensure the quality of the Unqork platform and any applications that Creators build on it. This involves managing teams all over the world, developing test strategies for a wide variety of use cases, scaling to company growth, and focusing on the little details that bring out the best in what we do. Here's how Karen spent one of her days last week:
7:30 AM: I start the day off with a yoga session, which is a new routine I've picked up since going remote. When the world was more open, I would probably go out and get a coffee and a bagel, but during the pandemic, I've been taking advantage of the virtual exercise classes Unqork provides. I've found that I'm pretty good at yoga and it's really easy to do in any space—plus, it's a nice way to ease into the day.
8:30 AM: After yoga, I usually head straight into my day—no breakfast, just a lot of water and some tea. Typically, I have three to four meetings with the offshore teams. As a QA Manager, over 90% of my team works in different time zones. We seek to achieve a 24/5 testing schedule so I have trusted leaders managing teams at all hours. Also, offshore teams help Unqork meet the timelines and comprehensive QA deliverables that are expected as the client's software moves through production. Those teams are ending their days as we're starting ours, and the handoff of information from the offshore team to the onshore team is necessary for our software development lifecycle.
11:30 AM: Now I have my first meeting with the Eastern Time (ET) Zone teams. Meetings with the ET team are usually focused on connecting with the team members who weren't in the other morning meetings, like our performance engineers, platform test engineers, internal QA leads, and other leaders in the organization. We all check in with each other, share what we have going on for the day, and run through any internal announcements.
12:00 PM: My virtual assistant tells me it's time to eat lunch, which is always leftovers. I wouldn't normally order in so much, but that's what my routine has been like this year. While I'm eating, I scroll through TikTok for a few minutes. Internet trends change so quickly—especially on TikTok—and it's fun to try to keep up with them.
1:00 PM: After lunch, I meet with clients to showcase our approach to testing—manual, automated, and otherwise. From there, we start putting together a strategy that works for their specific project and aligns with their priorities. A lot of people come in with experience testing previous applications that they've built, but they didn't build those applications using Unqork. We usually have to mold those ideas to fit their new situation and their new strategy, a process that can take several meeting sessions.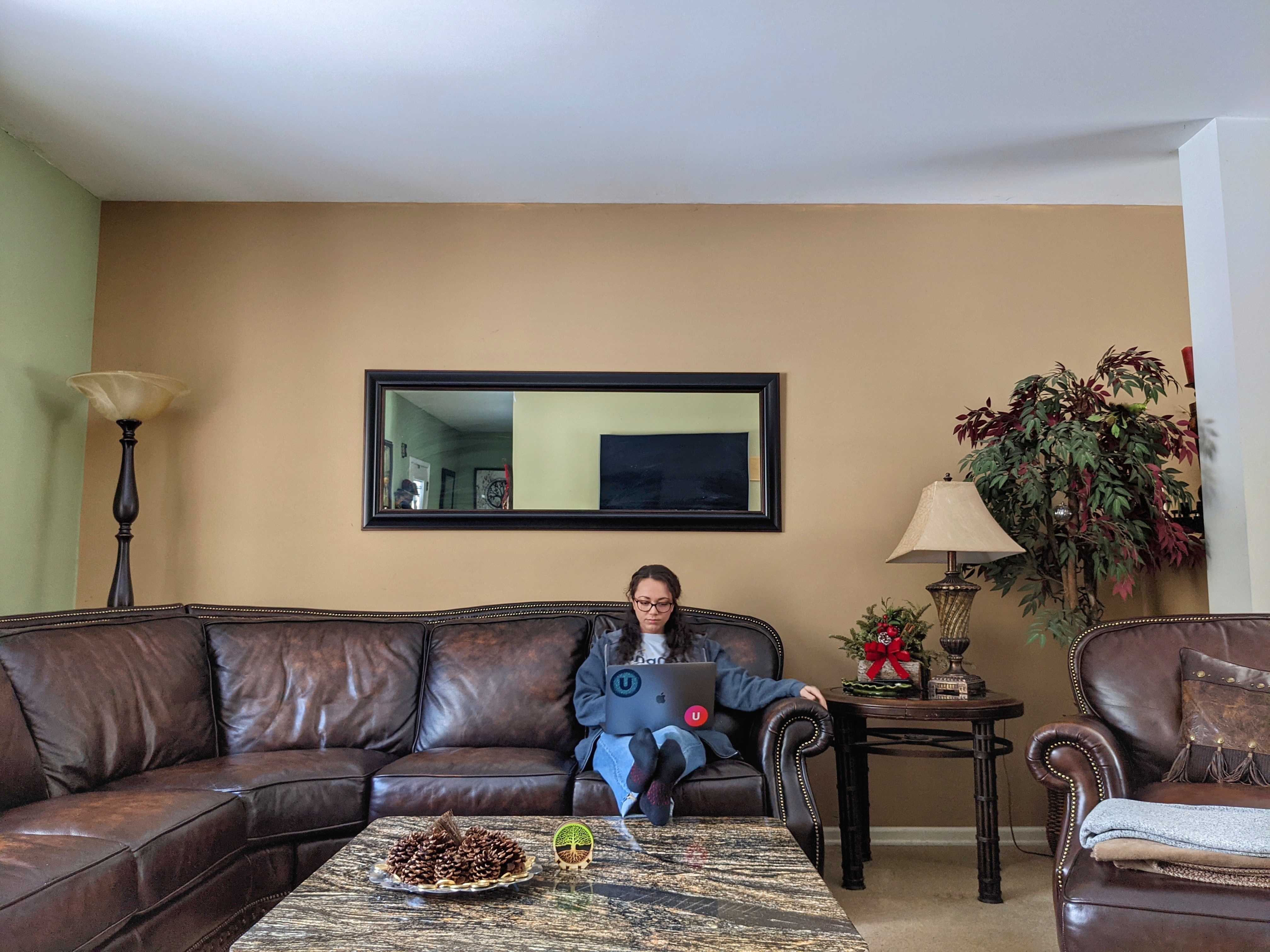 2:00 PM: Time for one-on-one meetings with leaders on my team! We resource plan, go over high-level feedback, and discuss finances. A big focus for me this quarter is managing projects that are focused on generating tools for us to use in Unqork. I want to decrease our dependence on external tools and take advantage of our own powerful platform.
3:00 PM: I get into the core of my QA work. If you make a request on an active project—we're juggling over 30 right now—you will get results within 12 hours. To make this happen, I have to regularly check in with my team to ensure that they don't have any blockers and that the wheels are always turning.
After I manage or assign internal service desk requests, review test strategies, and provide approvals, I catch up on emails for the first time in the day. During the COVID-19 pandemic, I've learned to make the most of meetings, because while I'm always answering messages, I'm not always in a meeting. I try to give people my full attention when I can. It's something you learn as a manager that makes your meetings more effective and your relationships with those people more effective. By 3:00 PM, I typically have a handful of messages which need my attention.
4:00 PM: I investigate the new project pipeline and assign team members to new service requests.
During the COVID-19 pandemic, I've learned to make the most of meetings, because while I'm always answering messages, I'm not always in a meeting. I try to give people my full attention when I can.
4:30 PM: I prepare for the next day's client meetings by creating slides, recording walkthroughs, and making sure that my calendar is achievable.
5:00 PM: I end the day with a bit of housekeeping. I create slides and document processes, share meeting notes with my teammates, and update all Confluence pages and Jira tickets.
5:30 PM: I host a meeting for Unqork Access, our new Employee Resource Strategy Group (ERSG). Our mission is to make our company and platform's capabilities accessible to everyone. We do this by bringing awareness to all types of disabilities, increasing representation and retention of people with disabilities, removing barriers to resources and support, and developing a trusted community to make Unqork a global leader in disability inclusion. I'm the secretary of that group, so I do a lot of administrative tasks like running meetings and assigning tasks from our Jira board. Unqork Access is full of great people from different parts of the organization, which creates an exciting opportunity to work cross-organizationally.
7:00 PM: Time for the Rangers game! Since I moved back to New York last year, my fandom for the Rangers has resurfaced. For good luck, you have to watch the game wearing some sort of Rangers clothing like a jersey, scarf, or hat. We haven't been doing that well this season, so someone's obviously not wearing their jersey!
To hear more perspectives from other Unqorkers, check out our Creator Spotlight series.
Take a self-guided tour of Unqork's Codeless-as-a-Service (CaaS) platform