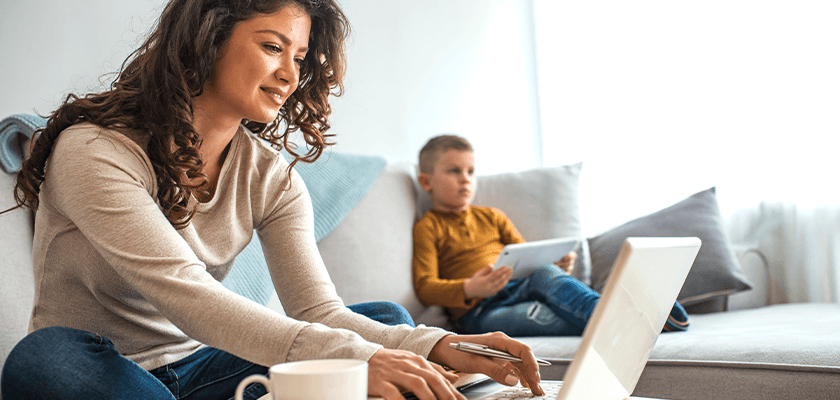 With Unqork and Deloitte, insurance companies can harness the power of no-code to rapidly build and effectively manage powerful customer-facing eApps.
The insurance industry is under increasing pressure to address rising expectations for modern customer-centric digital experiences. This has been true for many years, but the pandemic exposed a sharp distinction between the digital-haves and digital-have-nots—firms that offered things like highly automated back-end processes, self-service hubs, and remote customer engagements fared far better than their less digital-forward competition.
COVID disruptions may have been a wake-up call for the digital-transformation-laggards, but even in "normal times," robust digital capabilities can be a key difference-maker in an increasingly competitive marketplace.
During a recent webinar, Deloitte's Ted Epps (Principal, Life & Annuity Technology Practice Leader), Unqork's Chandresh "CK" Kothari (Insurance Lead), and Christian Barrera (VP, Alliances) explored how insurance companies can capitalize on today's marketplace trends through customer-facing eApps rapidly developed using no-code.
"A lot has changed in financial services over the past two decades, but the way we sell life insurance has stayed remarkably the same," explained Ted Epps. "We still go through a lengthy underwriting process on most policies, we still do a fair amount of medical underwriting. The process takes weeks, if not longer... So, now I see the sales process to be a differentiator and help firms attract customers and distributors who value ease-of-use and look to you as a partner who will get them through a sales process efficiently."
Digital differentiators can come in a number of flavors, in things like:
Omnichannel digital sales & distribution channels
Real-time underwriting, issuance, and policy delivery
Digital payment options
Greater collaboration between distribution and customers
Improved relationships with distribution via an easier-to-navigate sales process
"Increasingly, we are seeing investment in digital tools to support the sales process, of which eApps are a key component," explained Epps. "Forward-looking clients of ours are looking at no-code solutions to accelerate development and breakthrough by focusing on eApps. Based on their experience in the insurance space, Unqork is a very attractive solution for an application with assets that can be deployed quickly to support a modern buying experience."
Want to learn more? Watch the full discussion from our recent webinar.
Building digital enterprise solutions isn't for the faint of heart—particularly in complex and highly-regulated sectors such as life insurance. Custom enterprise software requires the upgrading and integrating of legacy systems and external services, complying with an evolving patchwork of oversight, and competing for scarce IT talent. This is where the global reach and industry expertise of Deloitte combined with the accelerative power of Unqork can be a game-changer.
The Power of No-Code
Unqork is the industry's first enterprise no-code application platform. We specialize in complex, highly regulated industries like insurance. We empower our clients to develop robust solutions including insurance eApps with unparalleled speed and flexibility while using a fraction of the resources. We can deliver these benefits through:
A unified SaaS platform: Unqork comes with dozens of components and capabilities related to crucial areas like compliance (up-to-date regulatory and enterprise rules engines for FATCA, CRS, UK CDOT, Dodd-Frank, EMIR, and MiFID II, etc.), security (native encryption both in transit and rest, custom RBAC capabilities, and crowd-sourced penetration tests), and application management (SDLC governance, application versioning, and module management).

A completely visual UI: Applications are built via an intuitive, visual User Interface (UI) featuring drag-and-drop components representing user-facing elements, backend processes, data transformations, third-party integrations, and a growing library of industry-specific templates.

Enterprise-grade standards: Unqork is enterprise compliant (e.g., SOC2, GDPR, Privacy Shield compliant, etc.) and includes advanced security functionality including proprietary RBAC solutions and we provide BCP and DR support for all applications built on our platform.
"Anything that touches a distributor or a customer or even your operations team becomes part of the new business value chain and the fulfillment process," explained Unqork's CK. "Some of core digital capabilities such as accelerated underwriting have been around for a while, but haven't been used to their full potential. We are helping many of our carrier clients, along with our partnership with Deloitte, push the envelope with things like all-automated underwriting."
"Some of core digital capabilities such as accelerated underwriting have been around for a while, but haven't been used to their full potential. We are helping many of our carrier clients, along with our partnership with Deloitte, push the envelope with things like all-automated underwriting."

— Chandresh "CK" Kothari, Unqork Insurance Lead
Using Unqork, companies can rapidly develop and effectively manage an end-to-end insurance platform that seamlessly integrates legacy technologies and external third-party services. This can be used to quickly and easily build solutions and eApps that address a number of insurance use cases.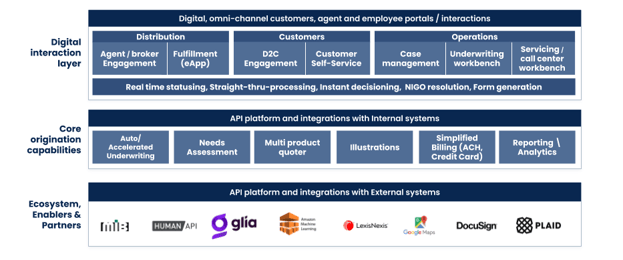 With no-code, carriers are able to realize a multitude of benefits throughout the organization including:
Accelerated time-to-market, which also means accelerated time-to-revenue.
Improved customer satisfaction delivered via omnichannel user experiences and access to on-demand resolutions.
Streamlined processes made possible through digital forms, integrated data, and complex business logic.
Improved data quality through automatic checks for NIGO submissions (which also eliminates the need for remediation after the fact).
Increased revenue by accelerating underwriting decisions and other relevant processes
When you're ready to see how Unqork and Deloitte can be used at your company, schedule a personalized demo with one of our in-house experts or sign up for the Unqork newsletter to learn more about what's possible with no-code.
The future of insurance is codeless