Building an enterprise web application on a no-code platform? Set yourself up for success with these four key tips for no-code application development.
Congratulations! You've decided to say goodbye to time-consuming development cycles and expensive legacy maintenance for good by switching from a traditional code-based approach to no-code. Now what? Where do you start with no-code application development, especially if you're building an enterprise-grade application for the first time? Every team's application development approach is different, but we've found that developing a truly superior no-code application begins with following these four tips.
1. Focus on Business Logic
Regardless of whether you use code, low-code, or no-code to bring it to life, every enterprise application starts with an idea. The key difference is that when you build with code, your business idea can be fenced in by the limitations of code.
With no-code, intuitive visual interfaces and drag-and-drop components make it easy to create sophisticated workflows without writing a single line of code. The Unqork team takes care of all of the time-consuming backend work for you, so organizations are freed to focus on building value-additive business logic and perfecting the UX rather than spending time on writing syntax.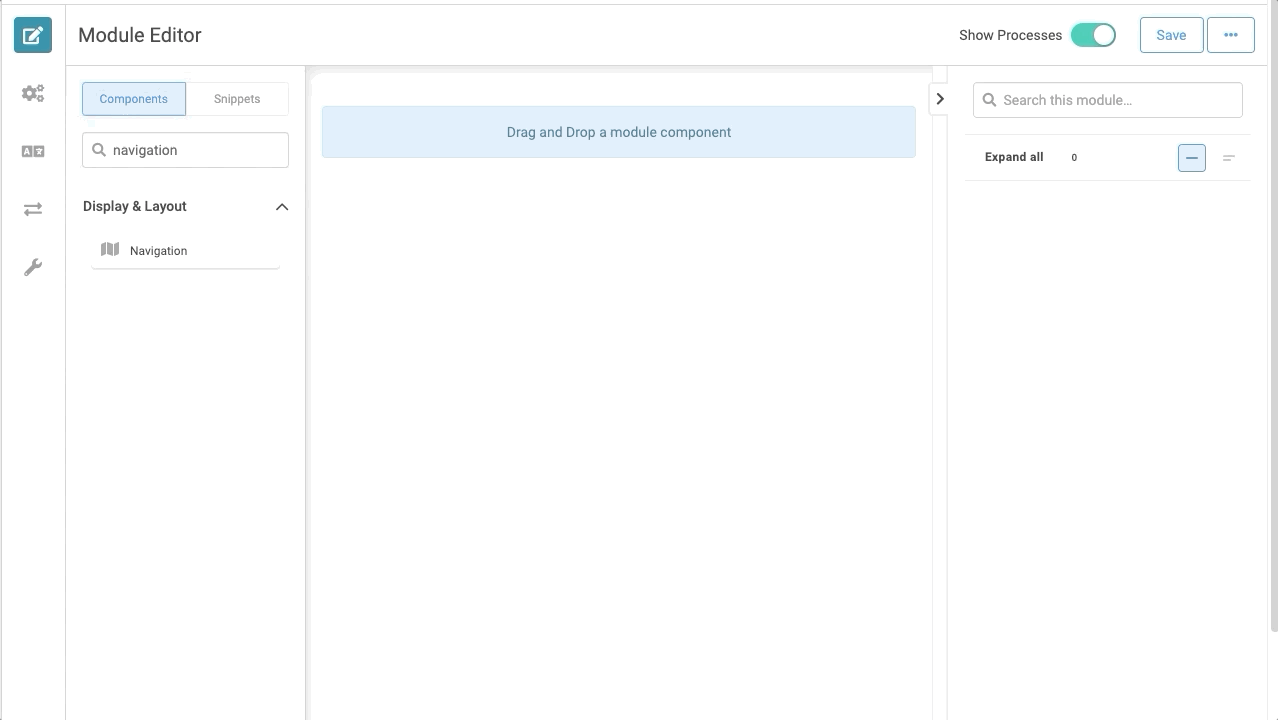 2. Take a User-Centered Approach
After thinking through how your application will work, think about who your application will help. As industries become increasingly competitive, customer service has become a new market battlefront, meaning IT teams must prioritize customer experiences and consider how users prefer to interact with online services. For example, when designing for millennial users, you should anticipate their preference for self-service online portals and the fact that if they can't resolve an issue themselves, they expect a customer service representative to respond to their request in 10 minutes or less. Do your customer research, find out what your target audience really wants, and brainstorm ways to give it to them.
Designing enterprise applications with the user in mind becomes much easier with a no-code platform. If you need to make changes to an existing application or create something entirely new in response to user feedback, you can do so without embarking on a year-long development process. No-code offers you the agility to keep up with customer demand and develop new features that ensure users return to your application again and again.
It goes without saying that you want your application to meet the needs of as many people as possible, but doing so involves more than simply creating an application that people want to use. You must also deliver an application that a large cross-section of people can use effectively—accessibility and empathy are essential parts of enterprise application development. Make sure that your application is designed with accessibility in mind by paying attention to color and contrast, supporting keyboard navigation, and following other recommendations set out by W3C's Web Accessibility Initiative.
3. Make the Right Connections
Competition is fierce in today's digital landscape, and the best way to differentiate your application is to give customers more of what they want. However, this doesn't mean your enterprise has to provide every single service itself. This is where integrations come in! APIs allow organizations to attach databases and functionality from one system into a different one. This promotes the seamless flow of information and the coordination of various processes.
One of the most important things to remember about no-code application development is that it's a constantly evolving process—and that's a good thing! Iterating your application based on feedback from stakeholders is an essential part of the process.
With no-code, managing integrations is easy. The Unqork platform allows you to seamlessly integrate external services using APIs, so you don't have to worry about compatibility or linking systems together using buggy code. When developing your no-code application, think about what services you want to provide now, what services you hope to provide in the future, and who you can partner with to make it all happen.
4. Embrace Change!
One of the most important things to remember about no-code application development is that it's a constantly evolving process—and that's a good thing! Iterating your application based on feedback from stakeholders is an essential part of the process.
When you build with code, getting substantive feedback often means going back to the drawing board and rewriting thousands of lines of code. It's frustrating, time-consuming, and, depending on how far along you are in the development process, it can be expensive.
Conversely, no-code application development is designed for agility. If the business team has substantive feedback, it's easy to change flows and move components around without worrying about whether those changes will disrupt the other elements in your application. Furthermore, since you can make changes incredibly quickly, any applications you create will be future-proof because you will be able to adapt them as your needs evolve, keeping you ahead of the curve.
As you ideate and innovate, look to the future and think about how you'd like to see your application or ecosystem evolve over time. Who do you want to serve? How do you want to improve? What industry gaps can you potentially fill? With no-code, the possibilities are endless.
Start Building Today!
As you might have noticed, these four key tips have one thing in common: they're all made easier by the Unqork platform. When you build with us, you unlock everything you need to build better applications in a fraction of the time, for a fraction of the cost. From insurance to finance to the public sector, you can start your no-code application development journey off on the right foot with Unqork.
Want to learn more about how no-code can be used at your organization? Schedule a personalized demonstration with one of our in-house experts. Also, sign up for the Unqork newsletter to keep up-to-date on the latest in the world of no-code.
Take a self-guided tour of Unqork's Codeless-as-a-Service (CaaS) platform